ACLS "CLASSROOM" (Includes required Student Manual) berwin@ehealthcpr.info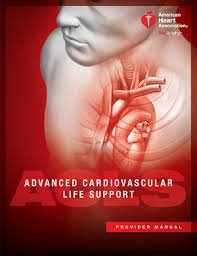 ACLS "CLASSROOM" (Includes required Student Manual) berwin@ehealthcpr.info
www.ehealthcpr.com for additional information
Advanced Cardiovascular Life Support
Advanced Cardiovascular Life Support (ACLS)
is an advanced, instructor-led classroom course that highlights the importance of team dynamics and communication, systems of care and immediate post-cardiac-arrest care. It also covers airway management and related pharmacology. In this course, skills are taught in large, group sessions and small, group learning and testing stations where case-based scenarios are presented.
ACLS is designed for healthcare professionals who either direct or participate in the management of cardiopulmonary arrest and other cardiovascular emergencies. This includes personnel in emergency response, emergency medicine, intensive care and critical care units.
Features

Course uses learning stations for practice of essential skills simulated clinical scenarios that encourage Active participation
Hands-on class format reinforces skills proficiency
Classroom-based works well for learners who prefer group interaction and instructor feedback while learning skills
eHealth CPR does

NOT REFUND

class fees paid for any scheduled class.

However you may reschedule a class without a fee, under special circumstances, by emailing Your Instructor prior to the closing date and time of your scheduled class.

Note: If we cancel a class a full refund will be given.