Combo: (BLS PROVIDER) Online & Skills Check Off (HeartCode Online/Classroom Practice/Skills Check/ eManual). (Payment MUST be Made in Advance). After paying for course please contact instructor at info@ehealthcpr.info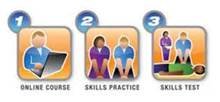 Combo: (BLS PROVIDER) Online & Skills Check Off (HeartCode Online/Classroom Practice/Skills Check/ eManual). (Payment MUST be Made in Advance). After paying for course please contact instructor at info@ehealthcpr.info
Note: This is a payment site please emai

l info@ehealthcpr.info

that you have paid for the BLS Combo course to receive your online course access code.

HeartCode BLS I (Basic Life Support - BLS Healthcare Provider) online course 15-1400. Upon completion of the online course students must complete a practice/skills classroom course. The cost of HeartCode I alone (the online course) does not include the cost of the classroom skills class HeartCode BLS II & III. However the Combo Cost does includes HeartCode BLS I, II & III plus the student emanual.

HeartCode II & III Accelerated skill class is 70 minutes.
* Combo Cost: Heartcode BLS I online, II & III classroom $70.00 paid in advance at www.ehealthcpr.net (online class, classroom practice/skills at our location).
This includes the BLS Provider Online Course called "HeartCode" and the required onsite (classroom) Practice & Skills Test at one of eHealthCPR's training sites.
BLS Online/Skills Package
This program is completed in three steps:
Part 1: Online cognitive program (completed online with AHA course key that is included with course)
Part 2: Skills Practice (completed in person with eHealthCPR Instructor)
Part 3: Skills Testing (completed in person with eHealthCPR Instructor)
**********************************************************************************************************************************************

Part 1 – Online Cognitive Program
1) After paying for the BLS Online/Skills Package email your instructor: berwin@ehealthcpr.info
Online-Student Manual-Skills Practice-Skills Test Package)!

2) Complete the BLS online part of course (Part 1) with key that will be provided by your eHealthCPR Instructor via email. You do not have to complete all of the online part of course at one time. You may log out and log back in. However you must complete all of the online course prior to taking the in person Skills Test!

3) Print your completion certificate located at the end of your online program. Bring the completion certificate with you to your skills check date. You must turn this in or your skills will not be checked at your appointment.
4) Attend the Skills Practice/Test you scheduled in #1 above. Be sure to notify your instructor if are unable to attend your scheduled Skills Test Class date!! The skills checks will take about 2 hours of your time; depends on how much you practice at your appointment.
5) When attending your skills check, Remember to bring your Part 1 Completion Certificate (required).

Parts 2 & 3 – Skills Practice and Testing (completed at one of eHealthCPR locations by an eHealthCPR AHA Instructor. Be sure to verify you onsite location when scheduling or with your instructor).
6) Arrive a few minutes before your appointment on time please.
7) Present your Part 1 Completion Certificate and sign in on the course roster.
8) Practice the BLS skills with BLS Instructor for support and guidance (if needed).
9) Complete your skills test with the eHealthCPR American Heart Association BLS Instructor.
10) Receive your completion certification.
Things to consider:
1) Once you have completed the Online Part 1 Portion, plan to attend your scheduled Practice/Skills test. Email your instructor to set up a date and time for your Skills Test: berwin@ehealthcpr.info . Your skills test or the online portion becomes null and void after 60 days!!. Please plan ahead so that you may complete this AHA requirement.
2) It is important you study the skills before attending. Your skills practice and testing will move along quicker.
3) Your certification card should be issued the date of your skills test (this is typical). Please note that due to occasional ecard back orders we may not be able to provide the card the day of the course. Your card would then be emailed to you.
Please contact us if you need an additional date and time. We will work to accommodate you, eHealthCPR@ehealthcpr.info
The American Heart Association strongly promotes knowledge and proficiency in BLS, ACLS, and PALS and has developed instructional materials for this purpose. Use of these materials in an educational course does not represent course sponsorship by the American Heart Association. Any fees charged for such a course, except for a portion of fees needed for AHA course materials; do not represent income to the Association.
Fees are subject to change at any time.
Refund of Class Fees eHealth CPR does NOT REFUND class fees paid for any scheduled online or classroom class. However you may reschedule a class without a fee, under special circumstances, by emailing Your Instructor prior to the closing date and time of your scheduled class. Note: There is a 60 day limit on ACLS/BLS/PALS online courses.Note: If we cancel a class a full refund will be given.
eHealthCPR is an

Erwinco LLC

company