Combo: (HEARTSAVER CPR/AED/First Aid) "Online & Skills Classroom" PAYMENT IN ADVANCE required. After payment, Please notify your instructor to receive your Online access code!! info@ehealthcpr.info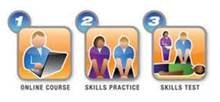 Combo: (HEARTSAVER CPR/AED/First Aid) "Online & Skills Classroom" PAYMENT IN ADVANCE required. After payment, Please notify your instructor to receive your Online access code!! info@ehealthcpr.info
Note: This class is not designed to meet RN, LPN, EMT or Paramedic cpr requirements. You will need the BLS Provider class.
THE HEARTSAVER CPR/AED/FIRST AID course covers Adult CPR/AED, Child CPR/AED, Infant CPR/AED & Adult First Aid. Note if you need enroll in the Heartsaver Pediatric CPR/AED/First Aid. Notify you instructor to receive your Online access code!! info@ehealthcpr.info

Heartsaver First Aid CPR AED online course 15-1403. Upon completion of the online course students must complete a practice/skills classroom course. The cost of the online course does not include the cost of the classroom skills class. Skills classroom 1 1/2 hrs. Note: Additional time for child and/or infant modules.
Combo Cost: Online and Classroom $75.00 paid in advance at www.ehealthcpr.net (online class, practice/skills classroom at our location).